Energy audits are also known as energy assessments, and are detailed examinations of a home to determine:
Where and how energy is being lost.
Those systems in the home that are operating inefficiently.
The types of cost-effective measures that can be put in place to make the home more comfortable, affordable and energy efficient.
How Many Kinds of Energy Audits Are There?
There are two types of energy audits:
Home Energy Survey A home energy survey is a visual inspection that doesn't include the use of diagnostic testing equipment. Its purpose is to assess the general energy performance of an existing home including:
Building envelope features (windows, doors, insulation, ducts) and ages.
Heating, cooling and ventilation equipment types, characteristics and ages.
Comfort complaints.
Visible moisture issues.
Visible health and safety issues.
A RESNET Home Energy Survey Professional (HESP) will request a review of utility use and billing history to better understand potential opportunities for savings. A report of the complete assessment is provided, including basic recommendations for improving the home's energy efficiency, as well as low-cost, do-it-yourself tasks. Also included is information on relevant utility-based programs to encourage the homeowner to take action. A home energy survey takes approximately one hour to complete.
General Energy Audit A general energy audit is also known as an energy assessment, standard energy audit or detailed energy audit. It expands on the home energy survey by collecting more detailed information regarding the home's energy usage, as well as a more thorough financial analysis of its energy costs.
The general energy audit also includes diagnostic testing using specialized equipment such as a blower door test, duct leakage tester, combustion analyzer and infrared camera. These tests are done to determine:
The location and number of air leaks in the building envelope.
How much leakage is occurring from HVAC distribution ducts?
How effective is the insulation inside walls and ceilings?
Any?existing or potential combustion safety issues.
A home energy auditor such as a certified RESNET Home Energy Rating System (HERS) Rater will conduct a whole-house evaluation including a computer software analysis to identify and prioritize proposed treatments for improvement. This is followed by a detailed report providing suitable retrofit recommendations and specifications. The Home Energy Auditor can recommend suitable RESNET Qualified EnergySmart Contractors to the homeowner that can perform the work. A general energy audit takes 3-4 hours depending on the size of your home.
What Are the Benefits of Doing an Energy Audit?
Among the major benefits of doing an energy audit are:
Lower energy bills
Improved home comfort
Increased home resale value
Lower environmental impact
Revealing hidden problems in the home
What Is an Energy Rating?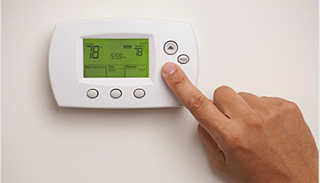 Contact Us, Certified RESNET HERS Rater to Learn More
Home Energy Rating
A home energy rating is an analysis of a home's energy efficiency; as per the Home Energy Rating System (HERS) Index. The HERS Index is the nationally recognized scoring system for measuring a home's energy performance. Based on the results, an energy-rated home will receive a HERS Index Score. The HERS Index Score can be described as a sort of miles-per-gallon (MPG) sticker for houses, giving prospective buyers and homeowners an insight as to how the home ranks in terms of energy efficiency. In addition to a HERS Index Score, a home energy rating also provides the homeowner with a detailed report regarding energy problems in the house.
How Does a Home Energy Rating Work?
A comprehensive HERS home energy rating, conducted by a certified RESNET Home Energy Rater, is the most in-depth energy performance assessment of a home that you'll find. It consists of diagnostic testing using specialized equipment, such as a blower door test, duct leakage tester, combustion analyzer and infrared cameras to determine: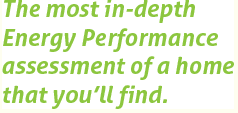 The amount and location of air leaks in the building envelope
The amount of leakage from HVAC distribution ducts
The effectiveness of insulation inside walls and ceilings
Any existing or potential combustion safety issues
Other variables that are taken into account include:
Floors over unconditioned spaces (like garages or cellars)
Attics, foundations, and crawlspaces
Windows and doors, vents and ductwork
Water heating system and thermostats
The comprehensive HERS rating provides a computerized simulation analysis utilizing RESNET Accredited Rating Software to calculate a rating score on the HERS Index. The report will also contain a cost/benefit analysis for the recommended improvements and expected return on investment.
How Does the HERS Index Work?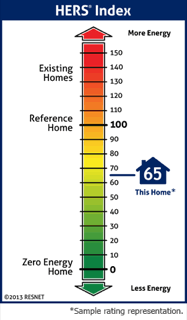 To calculate a home's HERS Index Score, a certified RESNET Home Energy Rater will do a home energy rating and compare the data against a 'reference home' – a design modeled home of the same size and shape as the actual home, so the HERS Index Score is always relative to the size, shape, and type of house you live in. The lower the number, the more energy efficient the home.
A typical resale home represents 130 on the HERS Index while reference home (a standard new home built in 2006) is rated at 100.
A home with a HERS Index Score of 70 is 30% more energy efficient than a standard new home.
A home with a HERS Index Score of 130 is 30% less energy efficient than a standard new home.
Developed by the Residential Energy Services Network and introduced in 2006, the HERS Index is the industry standard by which a home's energy efficiency is measured. Government agencies such as the Department of Energy (DOE), Department of Housing and Urban Development (HUD) and the Environmental Protection Agency (EPA) recognize the HERS Index as an official verification of energy performance.
The HERS Index in Less Than 3 Minutes
Energy Rating Benefits


Understand Whether a Home Is Energy Efficient or Not
As far as energy rating benefits go, one of the major ones is informing homeowners about the energy performance of their homes. Many homeowners are plagued by high utility bills and are unaware that in many cases the fault may lie not in over usage of electricity but performance issues with the house. An energy rating will rank a home based on its performance and assign it a HERS Index Score. The HERS Index Score functions as sort of energy efficiency version of a MPG (miles-per-gallon) sticker for houses and informs homeowners about how their homes compare to other similar ones in terms of energy usage. A lower HERS Index Score signifies a more energy efficient home.
Calculate a More Accurate Cost of Homeownership


Many prospective buyers who are considering a home purchase will look primarily at prices and mortgage options when deliberating the financial cost of the home. What they don't take into account are the energy costs. While it is natural to assume that it is the mortgage payments that constitute the main cost of homeownership, the fact is that when buying a home, the energy usage should also be factored into its cost as well. Otherwise, you aren't getting an accurate picture of how much that home will cost to maintain and run, and whether or not you can afford it. This is another one of the major energy rating benefits. Consumers can compare homes based on their HERS Index Scores in order to make an informed decision before deciding to buy. The more energy efficient a home is, the lower its HERS Index Score is.

Enjoy a Higher Home Resale Value
There is real proof that energy efficient homes are worth more and enjoy higher resale values than their counterparts. A study conducted by Portland, Oregon based Earth Advantage Institute, a nonprofit group, found that newly built homes that were certified as energy efficient sold on average for 8% more than non-certified homes (the study looked at homes in the six-county Portland metropolitan area). Not only that but certified existing homes sold for up to 30% more than their non-certified counterparts. In addition, another study conducted jointly by the University of North Carolina and the Institute for Market Transformation, found that on average mortgage default risks were 32% lower on homes certified as energy efficient. In order to be deemed energy efficient, a home must first be energy rated.

Improve Home Comfort and Reduce Energy Bills
Two things that impact homeowners directly are home comfort levels and energy bills. A drafty home, which is too cold in winter and too hot in summer, will also suffer from high energy bills. What that means is that all in all, the home is performing inefficiently as a complete system. One of the energy rating benefits that homeowners find tremendously useful is a detailed report that provides suitable retrofit recommendations and specifications that will rectify the home's energy problems